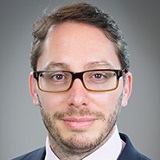 About
Aurélien Witzig
Aurélien Witzig, doctor of law, lawyer, lecturer at the Universities of Neuchâtel and Geneva, specializes in contract law and social law. His research focuses in particular on the legal consequences of the upheavals introduced by digitization.
Aurélien Witzig
2021-05-28T12:01:34+02:00
Notre droit social a environ un siècle et [...]
L'IA aura-t-elle la peau du droit social?
Aurélien Witzig
2021-05-28T12:01:34+02:00